Making Planning Work: A guide to approaches and skills (2006)
---
The Development of Planning Thought: A Critical Perspective
Regional and Local Economic Development
---
Place Identity, Participation and Planning
Book-Programmes! Programmes!: Football Programmes from War-Time to Lockdown
Programmes! Programmes!: Football Programmes from War-Time to Lockdown
Thursday, 09 April 2015 11:32
This blog was first posted on the Planning Resource website on 11 April 2011.
Across the world, administrative boundaries, and particularly international borders, are blocks to economic development, management of energy and conservation of natural resources. Rivers flow across frontiers, where flood prevention measures differ. National energy policies and grids constrain efficiency. Small towns split by a border struggle against larger economic hubs. The culture of officialdom looks inwards. However, across Europe border barriers are being tackled through spatial planning and economic development. Local blinkers are being replaced by new forms of co-operation and policy-making.
Thursday, 09 April 2015 10:58
This blog was first posted on the Planning Resource website on 23 March 2011.
I am one of Europe's growing cohort of old age pensioners. In 31 European countries, even if life expectancy does not improve, the population aged 65+ would increase by 40 per cent to 2050. If life expectancy continues to grow, the number of persons aged 65+ will leap by between 87 and 111 per cent. However, with out-migration and low birth rates, many of Europe's regions face the prospect of a population that is both ageing and reducing in numbers. Unless things change, 60% of European regions will experience population decline up to 2050. Demography is a key factor in the development and planning of cities and region: what are Europe's prospects and what are the implications?
Tuesday, 03 March 2015 17:05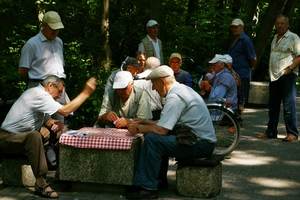 The idea of making your town more attractive has been central to the Trans-in-Form INTERREG project in which several IC members are partners. Now an ESPON Report from the "ATTREG" project has researched this project and published its findings. It points to the fact that some of the places that have been seen as being very successful in the recent past are now struggling to sustain their success.