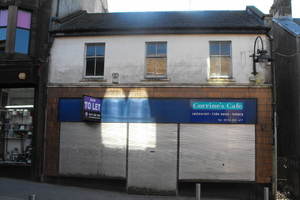 Town centres are dying. The economic crisis has highlighted the malaise. There are empty shops, as people head to the edge of town supermarket. Internet shopping replaces the trip to the store downtown. Prominent buildings once used for public functions such as town halls, post offices or churches stand empty too, as services have been rationalised or public attitudes have changed.
---
With cuts in public spending demanded by austerity budgets, it becomes ever more difficult to do the essential maintenance to the public realm that can make public spaces pleasant to visit.
So what can be done to create a new future? Innovative thinking is needed. Quick and cheap experiments may come up with new answers. This is the idea behind an exciting competition launched by the Carnegie Trust.
TestTown
TestTown links urban regeneration and youth entrepreneurship. It is a competition for young people in the UK aged 16-25.They can enter as individuals or as teams of up to six persons. Basically they are asked to come up with ideas on what a High Street might become.
Competitors have to show how their idea can be sustainable and how it meets a need. Proposals can be a business, a social enterprise, a project or a charity. Then the winners get a £10,000 prize (roughly Euros 11,500) and a chance to test out their ideas in a real town.
The competition will be judged on the problem -solving, risk taking, innovation and enterprising skills displayed by competitors. The organisers say they want to "inspire an entrepreneurial mindset in young people". They promise innovation and excitement and say that the competition and the entries "will make people say 'I wonder why no-one has thought of doing that before.'"
The Carnegie Trust believes that "Anything which works in TestTown should also work in YourTown". Shortlisting for the 10 final groups will take place in May. The TestTown Finals week is scheduled for the end of June 2013.
Finalists will set up their business on the Wednesday and trade until Sunday. Landlords and the local council will be supplying a list of available vacant spaces for the finalist teams to choose from as their venues – from market stalls to shops, offices to galleries.
The actual TestTown for the competition, which the finalists will get to work on, is Dunfermline. It is a town of just under 50,000 people that lies north of Edinburgh across the Forth estuary. It has a long history, but increasingly is a commuter town for Edinburgh. It was the birthplace of Andrew Carnegie, who made his fortune in the USA in the nineteenth century, mainly in steel. He was a philanthropist and the Carnegie Trust carries on his good works.
Follow-ups planned 
This is the first TestTown competition, but follow-ups are planned. More specifically, "Carnegie UK would welcome the opportunity to work in partnership with any organisation to develop innovative ideas which are stimulated by the TestTown project. TestTown has been organised and planned with a small realistic budget that will be supported by sponsorship opportunities."
You can keep up with the progress on of TestTown on Twitter @TestTown2013 #TestTown.
Scope for the Innovation Circle Network? 
The TestTown competition has much in common with the work of the innovation Circle Network (ICN). ICN has always had a focus on place-based innovation and the role of young people. Similarly, many towns in the Network face challenges in sustaining their traditional town centre functions. Might it be possible to adapt this idea to the ICN context, e.g. as a basis for a project proposal for EU funding? Carnegie's funding on this one is only for UK, while their international funding is more oriented to "Peace and Security".
At the least it is worth ICN members visiting the TestTown website over the next few weeks to see what kind of ideas people come up with.