This blog was first published on 27 February 2012, on the Innovation Circle Network site.
Community Archaeology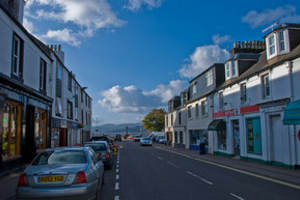 The Isle of Bute is situated off the west coast of Scotland. It is peripheral to the periphery, and has all the added problems that come with being an island. Unemployment is high, incomes are low, houses are small, people with higher education are few. It suffered as tourism changed. In the middle of the last century, the shipbuilders and steel workers from industrial Clydeside flocked to the island for their annual week's holiday. Those days of full employment and local vacations are long gone.  However, Bute's scenery and setting still offer qualities that are not readily available elsewhere and attract some to retire there.
---
The Bute project
Bute has been a focus for an interesting project which directly involves local residents in exploring the island's archaeology. The Discover Bute Landscape Partnership Scheme (www.discoverbute.com) has brought together local organisations, the local authority and central government agencies. It secured £2.3M from the UK's Heritage Lottery Fund  (www.hlf.org.uk) for a four year project that began in 2008. Community involvement in conservation of the built and landscape heritage is the heart of the project. All the farms on Bute are small and medium sized enterprises and all are included in the scheme.
A key part of the work has been to involve local volunteers in a survey of the archaeological heritage. No full survey had ever been undertaken before, so the official agencies were keen to get this scientific work done. What has resulted is an array of finds spanning from the Neolithic Age to the Cold War.
As well as recording finds, the aim has been to improve interpretation and access for archaeological sites. This has involved reaching agreements with landowners to allow public access to sites on their property.
The economic development side of the project is to provide training – e.g. in traditional skills such as the construction and maintenance of dry stone walls. In addition, there is the aspiration to attract more tourists, by making the heritage qualities of the island better known and easier to access.
Top Down or Bottom Up?
The Bute project is one of a number of community archaeology initiatives reviewed in a paper by Alex Hales from the Royal Commission for Ancient and Historic Monuments in Scotland (http://www.rcahms.gov.uk/rcahms-projects/linking-communities-to-historic-environments). His paper explores the idea of community engagement in archaeology.  He notes that the main attractions for participants to get involved are: understanding the past and their surroundings; contributing to a sense of place; and learning and interacting in a social environment with experts.

As with other forms of community engagement, projects can be top-down or bottom-up – or something between the two. The Bute project is seen as the latter – a middle way. It scores highly on the three main areas where historic environment community engagement projects need to demonstrate good practice. These are in skills development for all participants; by improving local, regional and national historic environment databases; and the overall community benefit to the historic environment sector. Any IC members attracted to the possibility of developing community archaeology in their area need to build these criteria into their planning.
Challenges for community archaeology projects

Hales' paper points up some issues that need to be considered and which can undermine a project. First, and most obviously, is a concern with funding. Arguably, this has at least a couple of components, though these are not explicitly identified by Hales.

At the beginning, there is the challenge of getting the funds. Even if volunteers are to give their time for free and a heritage agency is to benefit from work being done to advance its mission, there is inevitably competition for time and staff resources, not to mention for the "extras" such as training that are likely to created added value.
Once a project is secured there needs to be effective financial management throughout. Indeed, overall project management is needed. Often dedicated professionals such as archaeologists have a passion for their work that blinds them to the normal routines of budgeting time and resources. There is the risk that enthusiasm leads to them taking on work that requires more time than they had anticipated.
Finally, as with all projects, there is the question of what happens when the money runs out and the project finishes? Having got volunteers excited and mobilised, what are they supposed to do when the experts withdraw and the excitement of the project is no more? 
Part of the answer lies in developing the skills of the non-professionals.  In this way, once the project is over there is still a chance that the know-how developed during the project will lead to the continuance of the work in another form. Hales describes the passing on of such skills as "crucial to the success of sustained, positive community engagement processes." 
Conclusion
The Discover Bute Landscape Partnership Scheme ticks a number of boxes for what is seen as good practice in community archaeology. For example, there is involvement of young people and the development of teaching resources. As the project is not yet complete, it is too soon to judge the economic benefits it can bring. Underpinning the project is the idea that history is an asset for the identity and marketing of a place. This is putting into practice the EU concept of territorial capital and place-based development. Places like Bute are not going to be able to compete with urban centres which have a large labour force and good transport connections. However, they may be able to find a niche based on their unique qualities, which are likely to be based on heritage, landscape and things like local produce and food. Forging links with outside professionals, tapping into their knowledge and ensuring a transfer of skills is surely a step in the right direction.
Foto: Flickr – copyright PhilipC